Ghana
Ghana is experiencing a period of transition as the country has struggled with meeting the energy needs of the country. However, with abundant natural resources, Ghana is essentially gearing up to meet the global landscape of industrialization and production standards. This has propelled the nation to explore efficient energy distribution systems in recent years.
Purevolt, as a manufacturer of energy efficient products like the automatic voltage regulators and servo stabilizers had been able to demonstrate that the problems in Ghana can be solved with smart thinking and the use of energy efficient products. With our numerous products finding its way to Ghana, industries and local buyers have expressed immense interest in our products and we take pride in their trust in our products.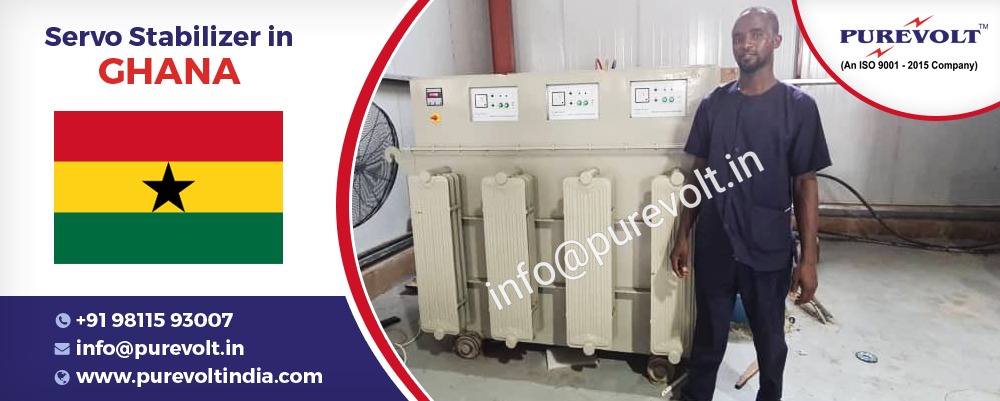 Overall, Purevolt has a substantial export rate when it comes to a developing region like the African Continent. However, it's not just developing countries that rely on our products; in the past decade, Purevolt was able to establish as a reliable and highly recognizable brand name in the Middle East. Contact us for our wide range of best price servo stabilizer
Here are some countries to which we supply Servo voltage stabilizers and distribution transformers:

Our Supply Network :
Andhra Pradesh, Arunachal Pradesh, Guwahati, Assam, Sikkim, Nagaland, Mizoram, Gandhinagar, Kanpur, Varanasi, Patna, Agartala, Karnataka, Bhubaneswar, Assam, Hyderabad, Bhopal, Indore, Dehradun, Rajasthan, Lucknow, Punjab, Kerala, Moradabad, Mumbai, New Delhi, Ludhiana, Jaipur, Chandigarh, Pune, Rudrapur, Tamil Nadu, Goa, Tripura, Bangalore, Chennai, Orissa, Srinagar, Meerut, Kolkata, Guwahati, Chhattisgarh, Kohima, Ranchi, Pondicherry, Gujrat, Arunachal Pradesh, Bihar, Madhya Pradesh, Maharashtra, Nagpur, Raipur, Thiruvananthapuram, Daman, Sri Ganganagar, Jammu & Kashmir, Uttar Pradesh, Silvassa
Our Export Network :
Afghanistan, Algeria, Angola, Australia, Bahrain, Bangladesh, Bhutan, Botswana, Canada, Boston, Egypt, Cairo, Manama, lagos, Ikeja, Dubai, Uae, Sydney, Sharjah, Abu Dhabi, Sudan, Dhaka, Bangladesh, Nepal, Bhutan, Sri Lanka, Ghana, Israel, Kenya, Lebanon, Malawi, Malaysia, Mozambique, Oman, Namibia, Nepal, Nigeria, Qatar, Russia, Singapore, Saudi Arabia, Dammam, Kaula Lampur, Indonesia, Vietnam, South Africa, Zimbabwe, Thailand, United Arab Emirates, Uganda, United Kingdom, UK , Tanzania, United States, Chile, Peru, Yemen, Zambia, Panama, Bahamas, South and Latin America.
Products Offered :
Industrial Servo Voltage Stabilizers SVS, Automatic Voltage Regulators / Stabilizers, IGBT based Online UPS (Single/Three Phase), Sine Wave Online Ups (Single / Three Phase), Automatic and Manual Voltage Stabilizers/Regulators, Constant Voltage Transformers – CVT, Ferro Resonant Transformers, Isolation Transformers, Auto Transformers, Step Up Down Transformers, Line Interactive – Offline UPS, Ups with External Battery, Power Inverters, DC – AC Converters, Telecom Transformers, Sine Wave Inverters, Solar Products, Dimmerstat / Variable Test Panel, Variable Auto Transformers (Variacs)