Servo Voltage Stabilizer for Textile Machines & Industries
Today the textile sector is undergoing huge transitions, from semi-automated machines to fully automatic ones. Such machines consume huge quantities of electricity as they work round the clock to cater to the ever-changing fashion landscape of a nation.
When such expensive machines are involved in mass production activities, any damage to these equipment can hinder the production process altogether and bring even a large factory to an instant standstill. As electric current are suppliedwith higher voltage ratings to industrial areas compared to residential sectors, voltage upsurges are a common thing in such places. The remedy to suchsituationsisthe servo stabilizer, a versatile piece of invention that controls any fluctuating load with ease.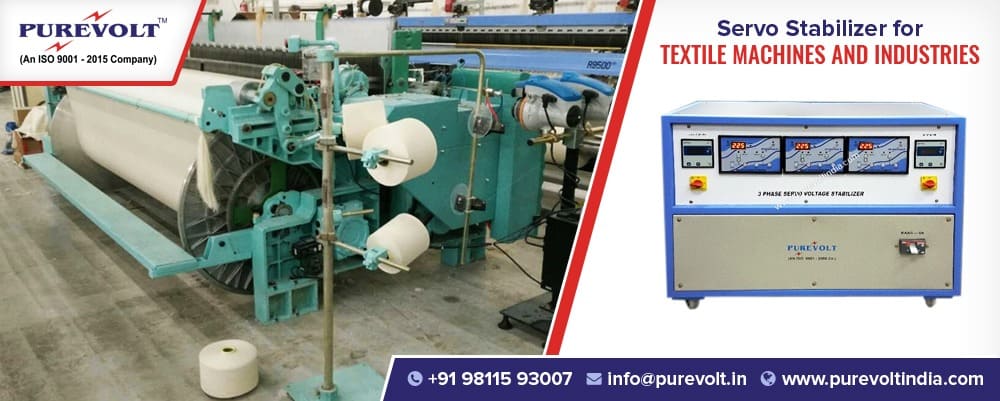 Servo stabilizers are flexible and designed for large voltage ranges suitable for three phase connections employed in textile factories. Often the rated input voltages range between 300 to 480 V, which is not adequate for heavy machinery; however, such a range is highly susceptible to voltage fluctuations as the gap between them is quite wide.
Using a servo stabilizer prevents any electrical hazards, in such situation without compromising on performance and production capabilities of textile industries. As the stabilizers are efficient in preventing permanent damages to internal components due to overheating of motors, electrical mishaps like power disruption, insulation damages and other hazards they can easily protect equipment as well as the people around. Moreover, servo stabilizers are highly durable with low maintenance cost, lasts very longerpromoting lesser consumption of electricity. Such qualities make it ideal for textile machines and for industrial purposes in general.
This makes servo stabilizers an integral part to safeguard various textile machines like like Cloth finishing machines, Knitting machines, fabric seaming machineries, Crochet machines, Lace machines, Label making machines, Quilting machines etc. Such versatility makes servo stabilizers mandatory for textile applications saving precious time, energy and operational losses that arise from electrical disturbances.

Our Supply Network :
Andhra Pradesh, Arunachal Pradesh, Guwahati, Assam, Sikkim, Nagaland, Mizoram, Gandhinagar, Kanpur, Varanasi, Patna, Agartala, Karnataka, Bhubaneswar, Assam, Hyderabad, Bhopal, Indore, Dehradun, Rajasthan, Lucknow, Punjab, Kerala, Moradabad, Mumbai, New Delhi, Ludhiana, Jaipur, Chandigarh, Pune, Rudrapur, Tamil Nadu, Goa, Tripura, Bangalore, Chennai, Orissa, Srinagar, Meerut, Kolkata, Guwahati, Chhattisgarh, Kohima, Ranchi, Pondicherry, Gujrat, Arunachal Pradesh, Bihar, Madhya Pradesh, Maharashtra, Nagpur, Raipur, Thiruvananthapuram, Daman, Sri Ganganagar, Jammu & Kashmir, Uttar Pradesh, Silvassa
Our Export Network :
Afghanistan, Algeria, Angola, Australia, Bahrain, Bangladesh, Bhutan, Botswana, Canada, Boston, Egypt, Cairo, Manama, lagos, Ikeja, Dubai, Uae, Sydney, Sharjah, Abu Dhabi, Sudan, Dhaka, Bangladesh, Nepal, Bhutan, Sri Lanka, Ghana, Israel, Kenya, Lebanon, Malawi, Malaysia, Mozambique, Oman, Namibia, Nepal, Nigeria, Qatar, Russia, Singapore, Saudi Arabia, Dammam, Kaula Lampur, Indonesia, Vietnam, South Africa, Zimbabwe, Thailand, United Arab Emirates, Uganda, United Kingdom, UK , Tanzania, United States, Chile, Peru, Yemen, Zambia, Panama, Bahamas, South and Latin America.
Products Offered :
Industrial Servo Voltage Stabilizers SVS, Automatic Voltage Regulators / Stabilizers, IGBT based Online UPS (Single/Three Phase), Sine Wave Online Ups (Single / Three Phase), Automatic and Manual Voltage Stabilizers/Regulators, Constant Voltage Transformers – CVT, Ferro Resonant Transformers, Isolation Transformers, Auto Transformers, Step Up Down Transformers, Line Interactive – Offline UPS, Ups with External Battery, Power Inverters, DC – AC Converters, Telecom Transformers, Sine Wave Inverters, Solar Products, Dimmerstat / Variable Test Panel, Variable Auto Transformers (Variacs)