We all have faced problems of unstable voltage which has eventually affected the electrical equipments in our household. To curb that issue Purevolt has introduced Servo voltage stabilizer that provide stable output supply in case of unbalanced voltage. Especially applicable for CNC machines these Servo stabilizers corrects the input voltage variation and protects the sensitive circuit of the cnc machine.
Before we discuss how usage of a Servo stabilizer can benefit a CNC machine it is important to understand the main problem area of CNC machine which is fluctuating voltage input.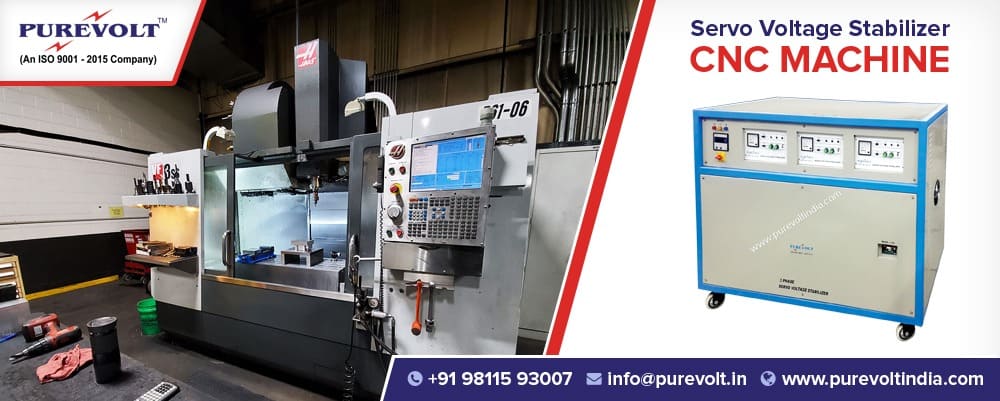 Mostly, CNC machines are of two types:
● 3-phase, 4-wire grounded service from 208Y/120V to 480Y/277V
● 3-phase ungrounded service at 480V delta or 240V delta
Our Servo Stabilizers can easily be used with top CNC Machines manufacturers from all around the world , few of them are as under:
Hitachi :
The company started in India in the 1930s. The company started manufacturing CNC machines and became very successful due to the high quality of its machines.
Makino :
The CNC machines manufactured are considered to be of very high quality. Apart from Bangalore, the company also has its offices in Delhi, Pune and Mumbai
Yasda :
The CNC machines supplied by the company are of premium quality because their manufacturing processes and equipments subscribe to international standards.
Yamazaki Mazak :
This company is one of the top manufacturers of CNC machines in india.
Mori Seiki :
This company is widely known all over the world for its machine tools and machines and is the finest CNC manufacturer in India.
For the above mentioned cnc machines to work properly it is advised to install a grounding electrode conductor for electrical power system to building the grounding electrode system, which consists of every earth electrodes.
If we study the architecture of a CNC machine we find that its signal reference is a common wire of its computer logic power supply connected to the machine's ground plate. The ground plate in turn is bonded to the machine's enclosure, equipment grounding conductor which is again bonded to the building grounding electrode system. Thus the grounded equipments establish the local signal reference both within the CNC machine and for any remotely connected devices.
The cabinet in a CNC machine has good grounding, bonding, and shielding and thus is expected to be immune to noise or stray currents. But different reference ground points in other areas of the factory may increase a CNC machine's sensitivity to power disturbances which results in the machine being liable to be affected by stray noise. This is cited as the primes reason for malfunctioning of a CNC machine.
Here comes the crucial role played by Servo voltage stabilizers. These coupled with a CNC machine can save both time and money of the owner. We all know how costly these CNC machines are and it is always wise to guard such sensitive and key component of the factory with a voltage stabilizer. There are different types of machines available such as CNC Lathe machine, CNC Grinders machine, and CNC Routers machines and all of them require Servo voltage stabilizer to avoid malfunctioning due to random fluctuation in voltage.
Prominent features of our Servo Controlled Voltage Stabilizer for CNC Machines.

● It is equipped with fully IC controlled based control circuit
● Provides reliable and stable performance.
● The efficiency is as high as 97 %
● One can perform Automatic & manual operation from Servo front Panel control system.
● The servo stabilizer is provided with low and high voltage limits.
● Our servo stabilizer has got fast correction rate of 20 to 90v/as.
● The response time of the servo stabilizer is as high as 10 milliseconds
● Standard metering is provided with Servo stabilizers to read input and output voltages.
● Servo Stabilizer are Compatible with generators.
● To make sure the operation of the machine is trouble free every unit is shock tested
If there is requirement of line voltage correction speed for Induction motors, CNC Machines, AC drives and other computer controlled systems, due to voltage fluctuation Servo type voltage stabilizer is the perfect solution for the same. They also eliminate breakdowns and to ensure better functioning of CNC machines, automated production machines and other important appliances of the industries.
Some of the Advantages Of Purevolt's Servo Voltage Stabilizer

● Providing 97 % efficiency this device is definitely energy saving.
● Usage of this servo stabilizer increases the life of the cnc machine
● With variation in load current the stabilizer provides steady flow of output voltage.
● Even if the input voltage widely varies one can get steady and accurate output voltage instantly.
● The output voltage is always balanced even when the input voltage may come in random spurts
● Servo stabilizers are provided with option of various features such as surge suppression, voltage cut-off, low & high voltage overload and additional metering. MCB, Single phase preventer, bypass of servo with main Line.

Our Supply Network :
Andhra Pradesh, Arunachal Pradesh, Guwahati, Assam, Sikkim, Nagaland, Mizoram, Gandhinagar, Kanpur, Varanasi, Patna, Agartala, Karnataka, Bhubaneswar, Assam, Hyderabad, Bhopal, Indore, Dehradun, Rajasthan, Lucknow, Punjab, Kerala, Moradabad, Mumbai, New Delhi, Ludhiana, Jaipur, Chandigarh, Pune, Rudrapur, Tamil Nadu, Goa, Tripura, Bangalore, Chennai, Orissa, Srinagar, Meerut, Kolkata, Guwahati, Chhattisgarh, Kohima, Ranchi, Pondicherry, Gujrat, Arunachal Pradesh, Bihar, Madhya Pradesh, Maharashtra, Nagpur, Raipur, Thiruvananthapuram, Daman, Sri Ganganagar, Jammu & Kashmir, Uttar Pradesh, Silvassa
Our Export Network :
Afghanistan, Algeria, Angola, Australia, Bahrain, Bangladesh, Bhutan, Botswana, Canada, Boston, Egypt, Cairo, Manama, lagos, Ikeja, Dubai, Uae, Sydney, Sharjah, Abu Dhabi, Sudan, Dhaka, Bangladesh, Nepal, Bhutan, Sri Lanka, Ghana, Israel, Kenya, Lebanon, Malawi, Malaysia, Mozambique, Oman, Namibia, Nepal, Nigeria, Qatar, Russia, Singapore, Saudi Arabia, Dammam, Kaula Lampur, Indonesia, Vietnam, South Africa, Zimbabwe, Thailand, United Arab Emirates, Uganda, United Kingdom, UK , Tanzania, United States, Chile, Peru, Yemen, Zambia, Panama, Bahamas, South and Latin America.
Products Offered :
Industrial Servo Voltage Stabilizers SVS, Automatic Voltage Regulators / Stabilizers, IGBT based Online UPS (Single/Three Phase), Sine Wave Online Ups (Single / Three Phase), Automatic and Manual Voltage Stabilizers/Regulators, Constant Voltage Transformers – CVT, Ferro Resonant Transformers, Isolation Transformers, Auto Transformers, Step Up Down Transformers, Line Interactive – Offline UPS, Ups with External Battery, Power Inverters, DC – AC Converters, Telecom Transformers, Sine Wave Inverters, Solar Products, Dimmerstat / Variable Test Panel, Variable Auto Transformers (Variacs)