Servo Voltage Stabilizer for Generators
Generators produce high amounts of electricity and therefore voltage regulation is of crucial importance. They also create more voltage fluctuation compared to electricity supplied from electric transmission stations. And since they are connected to other devices in tandem to supplement any electrical losses or supply power altogether, voltage stabilizers are a must for power generators.
This means that generators can often supply higher power to the devices than required and this can damage the internal windings by overheating. Next comes the reduction in efficiency that an equipment faces when the voltage is under and can result in malfunctions or unnecessary stoppage. Often these surges results in increased conductor losses and a climb in maintenancebills along with high downtimes.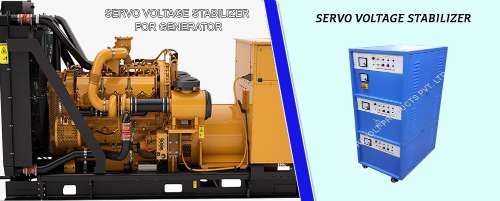 To put it simply, in such situations, we need a power-balancing regulator that works with both the electrical devices and the generator.Servo stabilizers are therefore an important inclusion to the overall functioning of a generator as well as the devices connected to it.
With servo stabilizers, the above problems are solved without much effort, as they are robust and provide a steady voltage. Thanks to its wide power range, attaching a generator becomes easy and the power supply remains steady and uninterrupted for the long period of operations.
Overall, servo stabilizer provide a much efficient way of controlling, balancing and regulating power from generators when compared to other types of voltage stabilizers.

Our Supply Network :
Andhra Pradesh, Arunachal Pradesh, Guwahati, Assam, Sikkim, Nagaland, Mizoram, Gandhinagar, Kanpur, Varanasi, Patna, Agartala, Karnataka, Bhubaneswar, Assam, Hyderabad, Bhopal, Indore, Dehradun, Rajasthan, Lucknow, Punjab, Kerala, Moradabad, Mumbai, New Delhi, Ludhiana, Jaipur, Chandigarh, Pune, Rudrapur, Tamil Nadu, Goa, Tripura, Bangalore, Chennai, Orissa, Srinagar, Meerut, Kolkata, Guwahati, Chhattisgarh, Kohima, Ranchi, Pondicherry, Gujrat, Arunachal Pradesh, Bihar, Madhya Pradesh, Maharashtra, Nagpur, Raipur, Thiruvananthapuram, Daman, Sri Ganganagar, Jammu & Kashmir, Uttar Pradesh, Silvassa
Our Export Network :
Afghanistan, Algeria, Angola, Australia, Bahrain, Bangladesh, Bhutan, Botswana, Canada, Boston, Egypt, Cairo, Manama, lagos, Ikeja, Dubai, Uae, Sydney, Sharjah, Abu Dhabi, Sudan, Dhaka, Bangladesh, Nepal, Bhutan, Sri Lanka, Ghana, Israel, Kenya, Lebanon, Malawi, Malaysia, Mozambique, Oman, Namibia, Nepal, Nigeria, Qatar, Russia, Singapore, Saudi Arabia, Dammam, Kaula Lampur, Indonesia, Vietnam, South Africa, Zimbabwe, Thailand, United Arab Emirates, Uganda, United Kingdom, UK , Tanzania, United States, Chile, Peru, Yemen, Zambia, Panama, Bahamas, South and Latin America.
Products Offered :
Industrial Servo Voltage Stabilizers SVS, Automatic Voltage Regulators / Stabilizers, IGBT based Online UPS (Single/Three Phase), Sine Wave Online Ups (Single / Three Phase), Automatic and Manual Voltage Stabilizers/Regulators, Constant Voltage Transformers – CVT, Ferro Resonant Transformers, Isolation Transformers, Auto Transformers, Step Up Down Transformers, Line Interactive – Offline UPS, Ups with External Battery, Power Inverters, DC – AC Converters, Telecom Transformers, Sine Wave Inverters, Solar Products, Dimmerstat / Variable Test Panel, Variable Auto Transformers (Variacs)