Servo Voltage Stabilizer for Plants, Factories and Industries
As a part of a sustainable future, every country is striving hard to improve the quality of life, which means there are factories and industries that work 24/7 producing essential goods to support the rising demands of an economy. Such plants and factories use various heavy machineries that run throughout day and at night to meet production targets.
Continuous manufacturing operations require reliable machineries that run steadily without breakdowns. Incorporating a servo stabilizer as a part of the electrical requirements in factories stabilizes and improves efficiency of a production unit. This is because, servo stabilizers effectively arrest and mitigate any harmful voltage surges, common to industrial machines, keeping the production process running without any hindrances.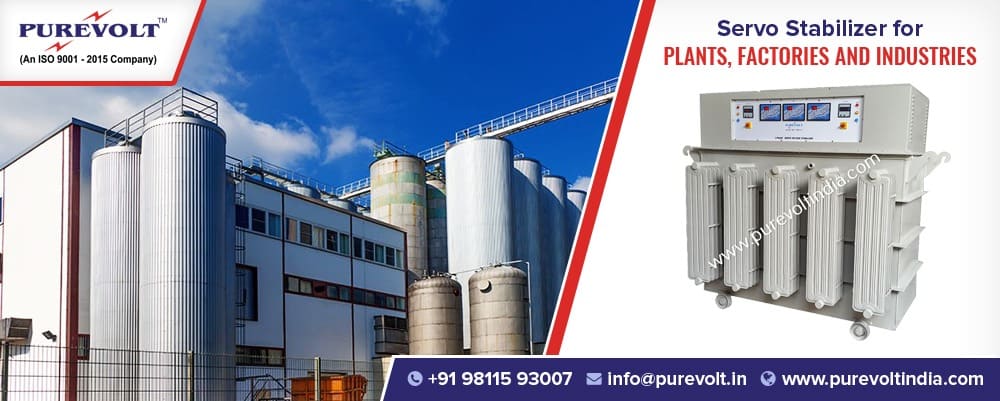 This doesn't mean the servo stabilizer is a compromise to plant safety. Quite contrary to this notion, this piece of versatile equipment is suitable for safe manufacturing practices in Plants since servo stabilizers are capable of providing +/- 1% output voltage correction for a +/- 50% voltage alteration at the input. Additionally, they are highly efficient and can support up to 3000 kVA power ratings.
As they are designed to deliver a steady output voltage with almost cent-percent accuracy, servo stabilizers improve the safe working of machineries and men alike along with an efficient production turnover for plants and industries.
Due to such reliability, servo stabilizers are mandatorily used in Factories, Industries and as well as sensitive applications that involve CNC machines, lab equipment, medical testing, etc. Compared to traditional relay transformers, servo stabilizers are quicker, accurate and require lesser maintenance, which is why they are popular for industrial use.

Our Supply Network :
Andhra Pradesh, Arunachal Pradesh, Guwahati, Assam, Sikkim, Nagaland, Mizoram, Gandhinagar, Kanpur, Varanasi, Patna, Agartala, Karnataka, Bhubaneswar, Assam, Hyderabad, Bhopal, Indore, Dehradun, Rajasthan, Lucknow, Punjab, Kerala, Moradabad, Mumbai, New Delhi, Ludhiana, Jaipur, Chandigarh, Pune, Rudrapur, Tamil Nadu, Goa, Tripura, Bangalore, Chennai, Orissa, Srinagar, Meerut, Kolkata, Guwahati, Chhattisgarh, Kohima, Ranchi, Pondicherry, Gujrat, Arunachal Pradesh, Bihar, Madhya Pradesh, Maharashtra, Nagpur, Raipur, Thiruvananthapuram, Daman, Sri Ganganagar, Jammu & Kashmir, Uttar Pradesh, Silvassa
Our Export Network :
Afghanistan, Algeria, Angola, Australia, Bahrain, Bangladesh, Bhutan, Botswana, Canada, Boston, Egypt, Cairo, Manama, lagos, Ikeja, Dubai, Uae, Sydney, Sharjah, Abu Dhabi, Sudan, Dhaka, Bangladesh, Nepal, Bhutan, Sri Lanka, Ghana, Israel, Kenya, Lebanon, Malawi, Malaysia, Mozambique, Oman, Namibia, Nepal, Nigeria, Qatar, Russia, Singapore, Saudi Arabia, Dammam, Kaula Lampur, Indonesia, Vietnam, South Africa, Zimbabwe, Thailand, United Arab Emirates, Uganda, United Kingdom, UK , Tanzania, United States, Chile, Peru, Yemen, Zambia, Panama, Bahamas, South and Latin America.
Products Offered :
Industrial Servo Voltage Stabilizers SVS, Automatic Voltage Regulators / Stabilizers, IGBT based Online UPS (Single/Three Phase), Sine Wave Online Ups (Single / Three Phase), Automatic and Manual Voltage Stabilizers/Regulators, Constant Voltage Transformers – CVT, Ferro Resonant Transformers, Isolation Transformers, Auto Transformers, Step Up Down Transformers, Line Interactive – Offline UPS, Ups with External Battery, Power Inverters, DC – AC Converters, Telecom Transformers, Sine Wave Inverters, Solar Products, Dimmerstat / Variable Test Panel, Variable Auto Transformers (Variacs)