Medical equipments often require a steady specific input voltage since they are calibrated for precision and delicate operations. With fluctuating voltage loads, these delicate medical equipments can experience disturbances and can experience damages to the highly calibrated parts of a machine. Using a Servo Stabilizer can mitigate this issue as they automatically adjust the input voltage, prevent electrical hazards, and damage to the equipment.
With the advancement of science in the field of robotics, various automated robotics machines are being used today in Operation Theatres for various complex organ surgeries such as heart transplant etc. Imagine if such a delicate and highly accurate machine malfunctions due to voltage fluctuations!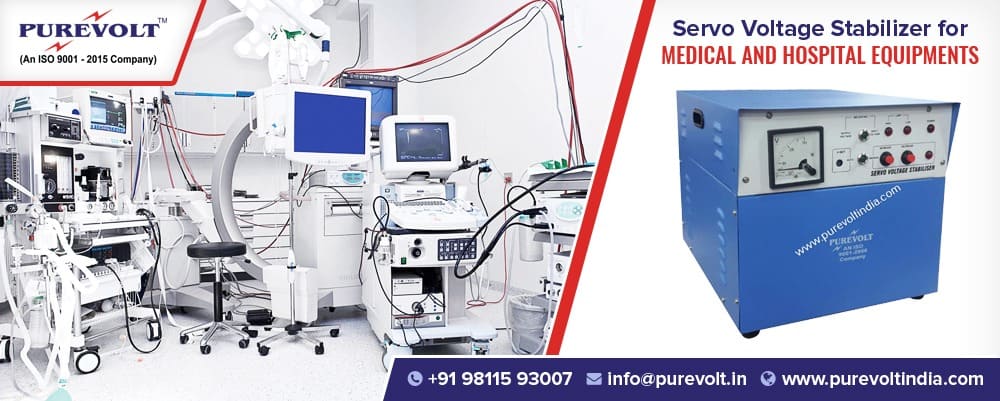 This makes servo stabilizers an essential inclusion for hospitals that uses expensive equipments like CT scanners, MRI machines, imaging machines, X-rays, etc. Since such machines require a constant voltage input, servo stabilizers become the apt choice, as they provide the correct input voltage keeping power fluctuations and equipment failures at bay.
Once the desired voltage limit is set on a servo stabilizer, they perform quite quickly thanks to the synchronizing motor that can respond to voltage surges. This not only protects medical equipments but also provides safe working conditions when there are voltage fluctuations even when the instruments are in operations. The voltage suppression of a servo stabilizer supersedes all other traditional voltage stabilizers as it works across a wide range of voltages and performs easily under acute conditions.
Since servo stabilizers help to maintain medical devices and prevent damage to almost all indoor appliances, they prove be a versatile machine that not only improves efficiency but also the performance quality of equipments thus enhancing their overall life.

Our Supply Network :
Andhra Pradesh, Arunachal Pradesh, Guwahati, Assam, Sikkim, Nagaland, Mizoram, Gandhinagar, Kanpur, Varanasi, Patna, Agartala, Karnataka, Bhubaneswar, Assam, Hyderabad, Bhopal, Indore, Dehradun, Rajasthan, Lucknow, Punjab, Kerala, Moradabad, Mumbai, New Delhi, Ludhiana, Jaipur, Chandigarh, Pune, Rudrapur, Tamil Nadu, Goa, Tripura, Bangalore, Chennai, Orissa, Srinagar, Meerut, Kolkata, Guwahati, Chhattisgarh, Kohima, Ranchi, Pondicherry, Gujrat, Arunachal Pradesh, Bihar, Madhya Pradesh, Maharashtra, Nagpur, Raipur, Thiruvananthapuram, Daman, Sri Ganganagar, Jammu & Kashmir, Uttar Pradesh, Silvassa
Our Export Network :
Afghanistan, Algeria, Angola, Australia, Bahrain, Bangladesh, Bhutan, Botswana, Canada, Boston, Egypt, Cairo, Manama, lagos, Ikeja, Dubai, Uae, Sydney, Sharjah, Abu Dhabi, Sudan, Dhaka, Bangladesh, Nepal, Bhutan, Sri Lanka, Ghana, Israel, Kenya, Lebanon, Malawi, Malaysia, Mozambique, Oman, Namibia, Nepal, Nigeria, Qatar, Russia, Singapore, Saudi Arabia, Dammam, Kaula Lampur, Indonesia, Vietnam, South Africa, Zimbabwe, Thailand, United Arab Emirates, Uganda, United Kingdom, UK , Tanzania, United States, Chile, Peru, Yemen, Zambia, Panama, Bahamas, South and Latin America.
Products Offered :
Industrial Servo Voltage Stabilizers SVS, Automatic Voltage Regulators / Stabilizers, IGBT based Online UPS (Single/Three Phase), Sine Wave Online Ups (Single / Three Phase), Automatic and Manual Voltage Stabilizers/Regulators, Constant Voltage Transformers – CVT, Ferro Resonant Transformers, Isolation Transformers, Auto Transformers, Step Up Down Transformers, Line Interactive – Offline UPS, Ups with External Battery, Power Inverters, DC – AC Converters, Telecom Transformers, Sine Wave Inverters, Solar Products, Dimmerstat / Variable Test Panel, Variable Auto Transformers (Variacs)