Servo Voltage Stabilizer for Residential and Home Use
Residential areas often experience voltage fluctuations due to numerous reasons. Sometimes they occur due to faulty wiring practices, other times the supplied voltages are not steady for household equipments. The result of such voltage surges - equipment failures, permanent damages to the electrical circuit of a house and sometimes even electrical hazards like fires.
However, such mishaps can be prevented by introducing a servo voltage stabilizer to stabilize the supply voltage at the source. There are however, relay type voltage stabilizers that are cheaper but unreliable compared to the servo type voltage stabilizer. Nevertheless, if you consider the maintenance cost and other replacements that traditional stabilizers incur, then servo stabilizer is a wise, one-time, long-term investment.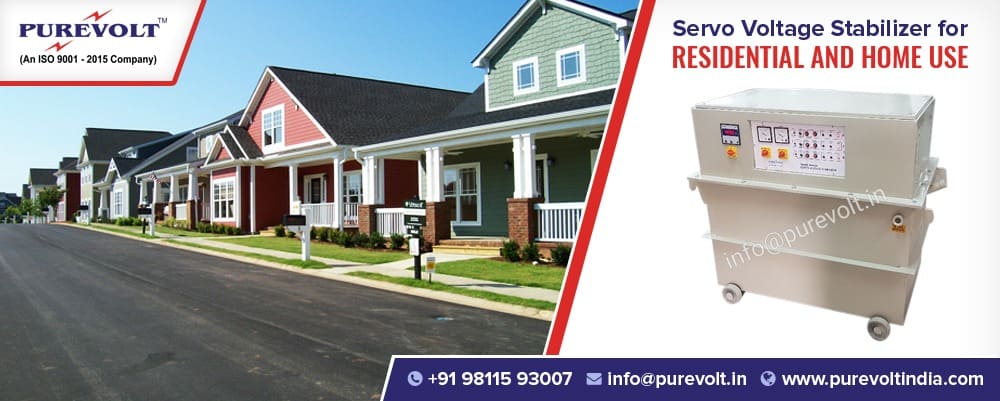 Just like your house, which you invest as a long-term plan, servo stabilizers is a mandatory investment that serves the purpose of maintaining your treasured living space without any harm or unforeseen mishaps.
With High end residential homes using high-powered appliances like air conditioners, heaters, refrigerators, etc. the changes of a voltage surge damaging such expensive machinery is higher. Servo stabilizers are suitable for both single and three phase connections and can adapt easily to residential uses for a wide power rating.
The installation of a servo stabilizer is relatively easy and as mentioned before is a long-term investment due to its low maintenance cost and long life. As the voltage correction happens very fast, compared to traditional stabilizers, voltage fluctuations are controlled quite efficiently with a servo stabilizer.
Apart from home use, servo stabilizers can be designed for entire buildings that operate elevators, high-power pumps and other electrical machines with motors that have a chance of overheating due voltage surges.

Our Supply Network :
Andhra Pradesh, Arunachal Pradesh, Guwahati, Assam, Sikkim, Nagaland, Mizoram, Gandhinagar, Kanpur, Varanasi, Patna, Agartala, Karnataka, Bhubaneswar, Assam, Hyderabad, Bhopal, Indore, Dehradun, Rajasthan, Lucknow, Punjab, Kerala, Moradabad, Mumbai, New Delhi, Ludhiana, Jaipur, Chandigarh, Pune, Rudrapur, Tamil Nadu, Goa, Tripura, Bangalore, Chennai, Orissa, Srinagar, Meerut, Kolkata, Guwahati, Chhattisgarh, Kohima, Ranchi, Pondicherry, Gujrat, Arunachal Pradesh, Bihar, Madhya Pradesh, Maharashtra, Nagpur, Raipur, Thiruvananthapuram, Daman, Sri Ganganagar, Jammu & Kashmir, Uttar Pradesh, Silvassa
Our Export Network :
Afghanistan, Algeria, Angola, Australia, Bahrain, Bangladesh, Bhutan, Botswana, Canada, Boston, Egypt, Cairo, Manama, lagos, Ikeja, Dubai, Uae, Sydney, Sharjah, Abu Dhabi, Sudan, Dhaka, Bangladesh, Nepal, Bhutan, Sri Lanka, Ghana, Israel, Kenya, Lebanon, Malawi, Malaysia, Mozambique, Oman, Namibia, Nepal, Nigeria, Qatar, Russia, Singapore, Saudi Arabia, Dammam, Kaula Lampur, Indonesia, Vietnam, South Africa, Zimbabwe, Thailand, United Arab Emirates, Uganda, United Kingdom, UK , Tanzania, United States, Chile, Peru, Yemen, Zambia, Panama, Bahamas, South and Latin America.
Products Offered :
Industrial Servo Voltage Stabilizers SVS, Automatic Voltage Regulators / Stabilizers, IGBT based Online UPS (Single/Three Phase), Sine Wave Online Ups (Single / Three Phase), Automatic and Manual Voltage Stabilizers/Regulators, Constant Voltage Transformers – CVT, Ferro Resonant Transformers, Isolation Transformers, Auto Transformers, Step Up Down Transformers, Line Interactive – Offline UPS, Ups with External Battery, Power Inverters, DC – AC Converters, Telecom Transformers, Sine Wave Inverters, Solar Products, Dimmerstat / Variable Test Panel, Variable Auto Transformers (Variacs)