In every country cold storage plants plays an important role in sustaining supply of food material to the market. The machines installed in a cold storage mostly work 24/7 maintaining the temperature and quality of raw food stored in it and therefore their continuous functioning is of utmost importance. These cold storage machines are used for storing whole fish, fillets, poultry product, meat products, dairy product & packaged foods and vegetables.
Common problems and how our servo stabilizer can help cold storage plants ?
Cold storage machine work with huge load and are not designed to accept huge fluctuation of input voltage, owing to their far off locations. If the actual supply is higher or lower than required, then the equipment's will consume more power. This scenarios itself clears the need for Servo Voltage Stabilizer to be installed in cold storages. The common types of electrical hazards in this industry are as follows:-

● Due to extra low or extra high voltage there can be short circuit or breakout of small fire. Now the machines in a cold storage plant are sensitive to smoke and fire which will stop functioning if a fire breaks out in the premises and thus cause huge monetary loss. A good manufacturer of servo voltage stabilizer can help you solve this problem.
● Other hazards include reduction in efficiency, power loss, equipment malfunction, power factor penalties, equipment and switchgear overheating, frequent shutdowns and early failure, increased conductor losses, frequent use of generators, production loss, increased maintenance bill. A reliable supplier of servo stabilizer can really help you out with possible solutions.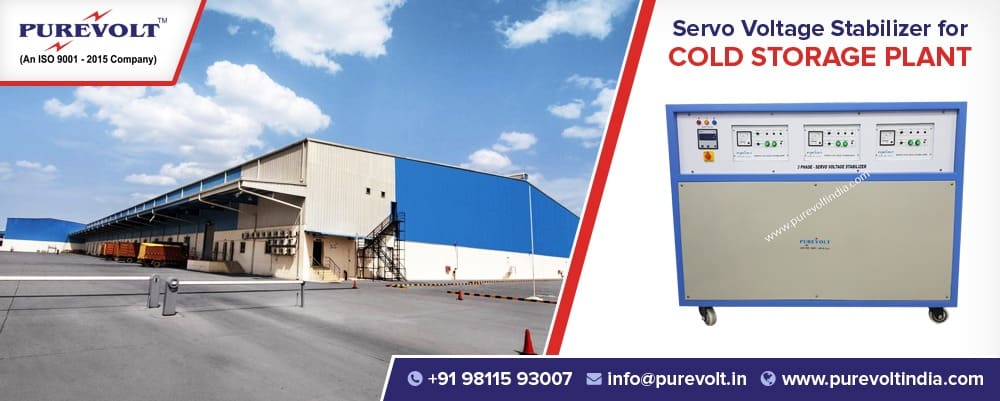 Types of Servo voltage stabilizers used in cold storage plants

The two types of voltage stabilizers which are primarily used in a cold storage plant are as follows:-

● 1 phase servo voltage stabilizer, they are used where 1 phase electricity supply is available.
● 3 phase servo voltage stabilizer, they are used where 3 phase electrical supply is available
It is recommended by the expert team of Purevolt that Servo voltage stabilizers with digital mode of functioning should be installed for the cold storage plants. Using these easy prevention of problems can be provided. These systems coupled with latest digital controllers for constant output voltage provides best performance. The voltage stability at the output end allows the optimum drawing of the current without high consumption of power. Therefore it is highly recommended that to protect the equipment of cold storage machinery, one has to install three phase servo voltage Stabilizer that offers protection from overload, short circuit, under voltage, over voltage etc. compared to other similar products in the market this one is cost saving and thus pocket friendly for the customer.
Some Facts about Servo voltage stabilizer
Servo voltage stabilizers have proved to be very useful with cold storage plants, owing to its high efficiency the customer demand for the same is reaching sky high to protect their electrical equipment's and sensitive machineries . With time our dependence on electrical equipment's are increasing. And with every passing day issues with electricity distribution and supply are also increasing. Thus there are huge number of machines which require the support of servo voltage stabilizer to prevent them from getting damaged every day. Thus the demand of servo stabilizer is estimated to go in millions in the coming years. And among all other brands Purevolt Servo voltage stabilizers are most preferred to safeguard electrical equipment's on areas such as cold storage.

Our Supply Network :
Andhra Pradesh, Arunachal Pradesh, Guwahati, Assam, Sikkim, Nagaland, Mizoram, Gandhinagar, Kanpur, Varanasi, Patna, Agartala, Karnataka, Bhubaneswar, Assam, Hyderabad, Bhopal, Indore, Dehradun, Rajasthan, Lucknow, Punjab, Kerala, Moradabad, Mumbai, New Delhi, Ludhiana, Jaipur, Chandigarh, Pune, Rudrapur, Tamil Nadu, Goa, Tripura, Bangalore, Chennai, Orissa, Srinagar, Meerut, Kolkata, Guwahati, Chhattisgarh, Kohima, Ranchi, Pondicherry, Gujrat, Arunachal Pradesh, Bihar, Madhya Pradesh, Maharashtra, Nagpur, Raipur, Thiruvananthapuram, Daman, Sri Ganganagar, Jammu & Kashmir, Uttar Pradesh, Silvassa
Our Export Network :
Afghanistan, Algeria, Angola, Australia, Bahrain, Bangladesh, Bhutan, Botswana, Canada, Boston, Egypt, Cairo, Manama, lagos, Ikeja, Dubai, Uae, Sydney, Sharjah, Abu Dhabi, Sudan, Dhaka, Bangladesh, Nepal, Bhutan, Sri Lanka, Ghana, Israel, Kenya, Lebanon, Malawi, Malaysia, Mozambique, Oman, Namibia, Nepal, Nigeria, Qatar, Russia, Singapore, Saudi Arabia, Dammam, Kaula Lampur, Indonesia, Vietnam, South Africa, Zimbabwe, Thailand, United Arab Emirates, Uganda, United Kingdom, UK , Tanzania, United States, Chile, Peru, Yemen, Zambia, Panama, Bahamas, South and Latin America.
Products Offered :
Industrial Servo Voltage Stabilizers SVS, Automatic Voltage Regulators / Stabilizers, IGBT based Online UPS (Single/Three Phase), Sine Wave Online Ups (Single / Three Phase), Automatic and Manual Voltage Stabilizers/Regulators, Constant Voltage Transformers – CVT, Ferro Resonant Transformers, Isolation Transformers, Auto Transformers, Step Up Down Transformers, Line Interactive – Offline UPS, Ups with External Battery, Power Inverters, DC – AC Converters, Telecom Transformers, Sine Wave Inverters, Solar Products, Dimmerstat / Variable Test Panel, Variable Auto Transformers (Variacs)