Automatic Voltage Regulator for Irrigation Water Pump
Water pumps are used for dewatering as well as filling units. As these equipments handle different fluids, they require a steady power rating to perform different operation. Moreover, water pumps are used for emergency purposes like in case of a flood, heavy rainfall or dealing with harmful fluids, where the downtime is almost zero.
Water pumps have motors with complex windings depending upon its capacity. The efficient working of these windings is necessary for the proper functioning of water pumps.
An upward surge in voltage can result in overheating such windings and can damage the equipment. To control the input voltage fluctuations, an automatic regulator is necessary for keeping the steady inflow of electricity. Servo stabilizers are often usedfor automatic correction of input voltages as they are designed for wide power ranges and can provide an accurate input voltage of +/-1% accuracy.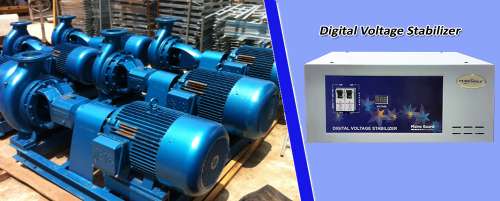 Servo stabilizers also prevent losses of cables, switches, transformers and other associated equipments with steady current input thus preserving not only the overall stability of water pumps but also its ancillary parts.
Purevolt Servo Stabilizers
To conclude, servo stabilizers are versatile and can be employed in any area of electric operation. It saves money, energy and prevents electrical hazards that can cause harm to human life and machinery.

Our Supply Network :
Andhra Pradesh, Arunachal Pradesh, Guwahati, Assam, Sikkim, Nagaland, Mizoram, Gandhinagar, Kanpur, Varanasi, Patna, Agartala, Karnataka, Bhubaneswar, Assam, Hyderabad, Bhopal, Indore, Dehradun, Rajasthan, Lucknow, Punjab, Kerala, Moradabad, Mumbai, New Delhi, Ludhiana, Jaipur, Chandigarh, Pune, Rudrapur, Tamil Nadu, Goa, Tripura, Bangalore, Chennai, Orissa, Srinagar, Meerut, Kolkata, Guwahati, Chhattisgarh, Kohima, Ranchi, Pondicherry, Gujrat, Arunachal Pradesh, Bihar, Madhya Pradesh, Maharashtra, Nagpur, Raipur, Thiruvananthapuram, Daman, Sri Ganganagar, Jammu & Kashmir, Uttar Pradesh, Silvassa
Our Export Network :
Afghanistan, Algeria, Angola, Australia, Bahrain, Bangladesh, Bhutan, Botswana, Canada, Boston, Egypt, Cairo, Manama, lagos, Ikeja, Dubai, Uae, Sydney, Sharjah, Abu Dhabi, Sudan, Dhaka, Bangladesh, Nepal, Bhutan, Sri Lanka, Ghana, Israel, Kenya, Lebanon, Malawi, Malaysia, Mozambique, Oman, Namibia, Nepal, Nigeria, Qatar, Russia, Singapore, Saudi Arabia, Dammam, Kaula Lampur, Indonesia, Vietnam, South Africa, Zimbabwe, Thailand, United Arab Emirates, Uganda, United Kingdom, UK , Tanzania, United States, Chile, Peru, Yemen, Zambia, Panama, Bahamas, South and Latin America.
Products Offered :
Industrial Servo Voltage Stabilizers SVS, Automatic Voltage Regulators / Stabilizers, IGBT based Online UPS (Single/Three Phase), Sine Wave Online Ups (Single / Three Phase), Automatic and Manual Voltage Stabilizers/Regulators, Constant Voltage Transformers – CVT, Ferro Resonant Transformers, Isolation Transformers, Auto Transformers, Step Up Down Transformers, Line Interactive – Offline UPS, Ups with External Battery, Power Inverters, DC – AC Converters, Telecom Transformers, Sine Wave Inverters, Solar Products, Dimmerstat / Variable Test Panel, Variable Auto Transformers (Variacs)