Servo Voltage Stabilizer for Lifts and Elevators
Elevators are common for both residential and industrial uses and they contribute to reducing manual effortby volumes. However, in industrial areas, the elevators are designed for catering to heavy machineries and therefore require robust motors that can overheat with power surges. These motors have copperwindings that heat and get damages if the supply voltage goes above the prescribed limit.
Servo stabilizers are suited for both single and three phase connections and elevators being an integral part of residences, offices and factories can benefit immensely from its usage. Elevators consume high amounts of electricity and it is common for them to experience power control problems while in operations. This often results in sudden stoppage of a lift midway while in operation endangering life of people and damage to property.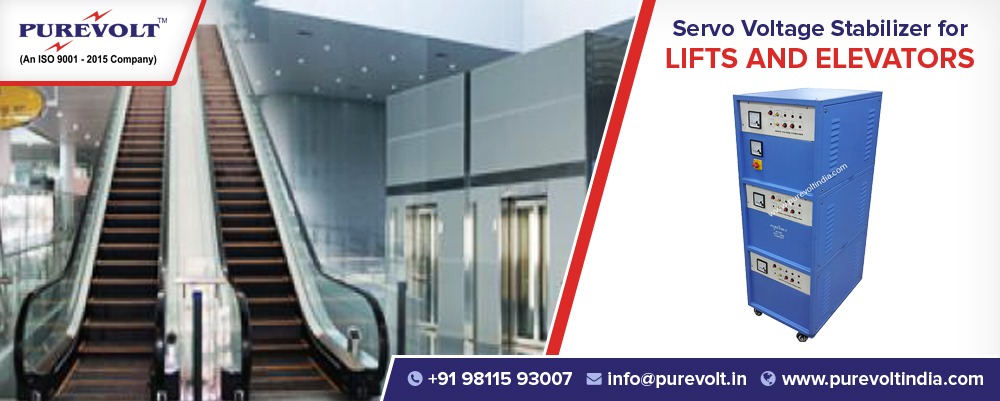 The best way to resolve and mitigate such an issue is by employing a servo stabilizer at the source of electrical input for a wide voltage limit. The synchronous servo motor adjusts the power fluctuation within seconds and always provides a steady and accurate voltage to the elevator motors. This is the easiest way to correct the voltage meant for heavy machineries without spending too much.
Maintenance is another important factor as the downtown to repair an elevat0r is unpredictable; a servo stabilizer requires very little downtown and low maintenance expenditure. Periodic maintenance takes very little time and the stabilizer often runs for long periods of time for the designed output voltage without any hindrances.
Hence, servo stabilizerscan be considered as a long-term investment that can protect people and assets, save money and carry on functioning without any interruptions.

Our Supply Network :
Andhra Pradesh, Arunachal Pradesh, Guwahati, Assam, Sikkim, Nagaland, Mizoram, Gandhinagar, Kanpur, Varanasi, Patna, Agartala, Karnataka, Bhubaneswar, Assam, Hyderabad, Bhopal, Indore, Dehradun, Rajasthan, Lucknow, Punjab, Kerala, Moradabad, Mumbai, New Delhi, Ludhiana, Jaipur, Chandigarh, Pune, Rudrapur, Tamil Nadu, Goa, Tripura, Bangalore, Chennai, Orissa, Srinagar, Meerut, Kolkata, Guwahati, Chhattisgarh, Kohima, Ranchi, Pondicherry, Gujrat, Arunachal Pradesh, Bihar, Madhya Pradesh, Maharashtra, Nagpur, Raipur, Thiruvananthapuram, Daman, Sri Ganganagar, Jammu & Kashmir, Uttar Pradesh, Silvassa
Our Export Network :
Afghanistan, Algeria, Angola, Australia, Bahrain, Bangladesh, Bhutan, Botswana, Canada, Boston, Egypt, Cairo, Manama, lagos, Ikeja, Dubai, Uae, Sydney, Sharjah, Abu Dhabi, Sudan, Dhaka, Bangladesh, Nepal, Bhutan, Sri Lanka, Ghana, Israel, Kenya, Lebanon, Malawi, Malaysia, Mozambique, Oman, Namibia, Nepal, Nigeria, Qatar, Russia, Singapore, Saudi Arabia, Dammam, Kaula Lampur, Indonesia, Vietnam, South Africa, Zimbabwe, Thailand, United Arab Emirates, Uganda, United Kingdom, UK , Tanzania, United States, Chile, Peru, Yemen, Zambia, Panama, Bahamas, South and Latin America.
Products Offered :
Industrial Servo Voltage Stabilizers SVS, Automatic Voltage Regulators / Stabilizers, IGBT based Online UPS (Single/Three Phase), Sine Wave Online Ups (Single / Three Phase), Automatic and Manual Voltage Stabilizers/Regulators, Constant Voltage Transformers – CVT, Ferro Resonant Transformers, Isolation Transformers, Auto Transformers, Step Up Down Transformers, Line Interactive – Offline UPS, Ups with External Battery, Power Inverters, DC – AC Converters, Telecom Transformers, Sine Wave Inverters, Solar Products, Dimmerstat / Variable Test Panel, Variable Auto Transformers (Variacs)