Uganda
In 2005, Uganda descended into a power crisis that made international headlines. They were unable to tackle electricity production and the problems that arose with electrical distribution network. More than a decade later, the supply deficit has been replaced by higher electricity generation resulting in a surplus by 2013. This meant that Uganda had put in efforts to make electricity a major driver for economic growth; however, even today the country faces distribution challenges even with surplus generation of electric power.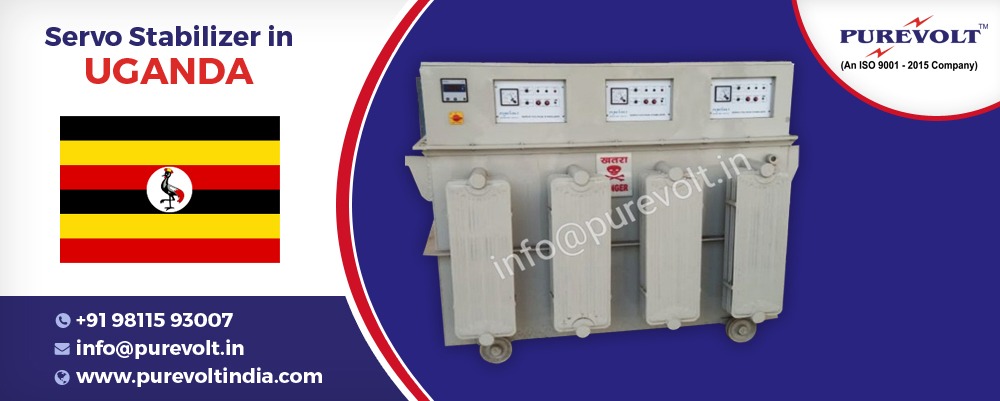 Given the nature of challenges, Purevolt had been able to provide reliable electric power distribution solutionsand stabilizing units like the automatic voltage regulators and servo stabilizersto many companies in Uganda. With the supply and installation of our distribution transformers and stabilizers, the region now has access to our products through various importers and local resellers.
We are also largest
Servo Stabilizer Manufacturer
, contact us for
best price servo stabilizer

Our Supply Network :
Andhra Pradesh, Arunachal Pradesh, Guwahati, Assam, Sikkim, Nagaland, Mizoram, Gandhinagar, Kanpur, Varanasi, Patna, Agartala, Karnataka, Bhubaneswar, Assam, Hyderabad, Bhopal, Indore, Dehradun, Rajasthan, Lucknow, Punjab, Kerala, Moradabad, Mumbai, New Delhi, Ludhiana, Jaipur, Chandigarh, Pune, Rudrapur, Tamil Nadu, Goa, Tripura, Bangalore, Chennai, Orissa, Srinagar, Meerut, Kolkata, Guwahati, Chhattisgarh, Kohima, Ranchi, Pondicherry, Gujrat, Arunachal Pradesh, Bihar, Madhya Pradesh, Maharashtra, Nagpur, Raipur, Thiruvananthapuram, Daman, Sri Ganganagar, Jammu & Kashmir, Uttar Pradesh, Silvassa
Our Export Network :
Afghanistan, Algeria, Angola, Australia, Bahrain, Bangladesh, Bhutan, Botswana, Canada, Boston, Egypt, Cairo, Manama, lagos, Ikeja, Dubai, Uae, Sydney, Sharjah, Abu Dhabi, Sudan, Dhaka, Bangladesh, Nepal, Bhutan, Sri Lanka, Ghana, Israel, Kenya, Lebanon, Malawi, Malaysia, Mozambique, Oman, Namibia, Nepal, Nigeria, Qatar, Russia, Singapore, Saudi Arabia, Dammam, Kaula Lampur, Indonesia, Vietnam, South Africa, Zimbabwe, Thailand, United Arab Emirates, Uganda, United Kingdom, UK , Tanzania, United States, Chile, Peru, Yemen, Zambia, Panama, Bahamas, South and Latin America.
Products Offered :
Industrial Servo Voltage Stabilizers SVS, Automatic Voltage Regulators / Stabilizers, IGBT based Online UPS (Single/Three Phase), Sine Wave Online Ups (Single / Three Phase), Automatic and Manual Voltage Stabilizers/Regulators, Constant Voltage Transformers – CVT, Ferro Resonant Transformers, Isolation Transformers, Auto Transformers, Step Up Down Transformers, Line Interactive – Offline UPS, Ups with External Battery, Power Inverters, DC – AC Converters, Telecom Transformers, Sine Wave Inverters, Solar Products, Dimmerstat / Variable Test Panel, Variable Auto Transformers (Variacs)