Servo Voltage Stabilizer for Packaging Machines and industries
Packaging industries are integral to manufacturing industries including the food sector. With daily innovation in the packaging sector, new types of products are being rolled out for various applications every day. This means that a packaging industry functions as a round-the-clock production process that supplements other manufacturers.
Servo stabilizers are an elegant solution to such industries as they are cost-effective, efficient, safe and highly reliable. Purevolt is reliable manufacturer and supplier of servo stabilizer for various packaging machines like labeling machines, tape machines, conveyors, filling machines, sealers, strapping/bundling machines, stretch wrapping machines etc
Since the packaging industry caters to huge volumes on a daily basis, packaging machines are often installed with specific programs to automate critical processes. Such programs are used to run huge machines continuously that require uninterrupted electricalsupply with a steady input voltage. However, in industrial areas where large scale manufacturing and packaging processes are undertaken, there are often voltage fluctuationsthat can easily damage the internal winding of heavy machineries.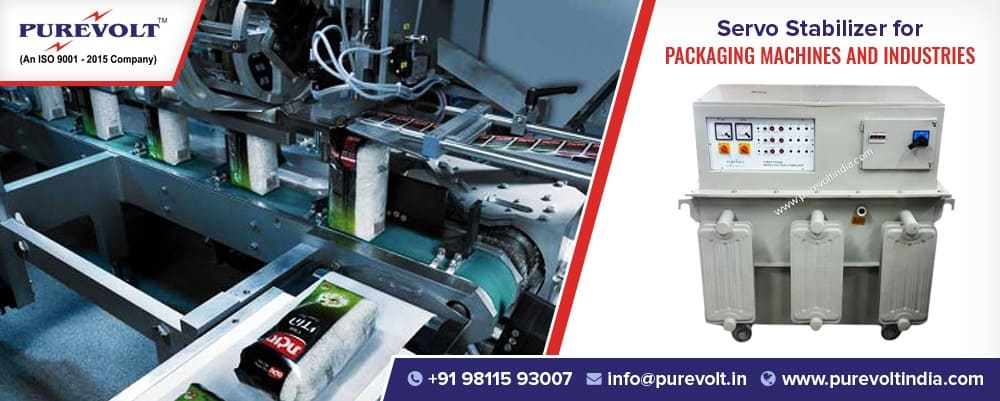 This means that critical processes can often experience a complete stoppage due voltage surges while posing a threat to the machineries itself. This hampers industries like the medical manufacturers that rely on packaging machines to keep lifesaving medicines ready for dispatch. The medical industry is not the only area that relies on reliable packaging. Food industries also rely on clean and durable packages on a daily basis and hindrances to such operations can occur if the machines experience emergency shutdowns and maintenance due to electrical issues.
Not to mention the large monetary savings they offer thanks to the lesser consumption of electricity making servo stabilizers, a must-have for the packaging sector.
Add to it the low maintenance and downtime compared to traditional stabilizers, a servo voltage stabilizer is a wise investment for a safe and prosperous business.

Our Supply Network :
Andhra Pradesh, Arunachal Pradesh, Guwahati, Assam, Sikkim, Nagaland, Mizoram, Gandhinagar, Kanpur, Varanasi, Patna, Agartala, Karnataka, Bhubaneswar, Assam, Hyderabad, Bhopal, Indore, Dehradun, Rajasthan, Lucknow, Punjab, Kerala, Moradabad, Mumbai, New Delhi, Ludhiana, Jaipur, Chandigarh, Pune, Rudrapur, Tamil Nadu, Goa, Tripura, Bangalore, Chennai, Orissa, Srinagar, Meerut, Kolkata, Guwahati, Chhattisgarh, Kohima, Ranchi, Pondicherry, Gujrat, Arunachal Pradesh, Bihar, Madhya Pradesh, Maharashtra, Nagpur, Raipur, Thiruvananthapuram, Daman, Sri Ganganagar, Jammu & Kashmir, Uttar Pradesh, Silvassa
Our Export Network :
Afghanistan, Algeria, Angola, Australia, Bahrain, Bangladesh, Bhutan, Botswana, Canada, Boston, Egypt, Cairo, Manama, lagos, Ikeja, Dubai, Uae, Sydney, Sharjah, Abu Dhabi, Sudan, Dhaka, Bangladesh, Nepal, Bhutan, Sri Lanka, Ghana, Israel, Kenya, Lebanon, Malawi, Malaysia, Mozambique, Oman, Namibia, Nepal, Nigeria, Qatar, Russia, Singapore, Saudi Arabia, Dammam, Kaula Lampur, Indonesia, Vietnam, South Africa, Zimbabwe, Thailand, United Arab Emirates, Uganda, United Kingdom, UK , Tanzania, United States, Chile, Peru, Yemen, Zambia, Panama, Bahamas, South and Latin America.
Products Offered :
Industrial Servo Voltage Stabilizers SVS, Automatic Voltage Regulators / Stabilizers, IGBT based Online UPS (Single/Three Phase), Sine Wave Online Ups (Single / Three Phase), Automatic and Manual Voltage Stabilizers/Regulators, Constant Voltage Transformers – CVT, Ferro Resonant Transformers, Isolation Transformers, Auto Transformers, Step Up Down Transformers, Line Interactive – Offline UPS, Ups with External Battery, Power Inverters, DC – AC Converters, Telecom Transformers, Sine Wave Inverters, Solar Products, Dimmerstat / Variable Test Panel, Variable Auto Transformers (Variacs)